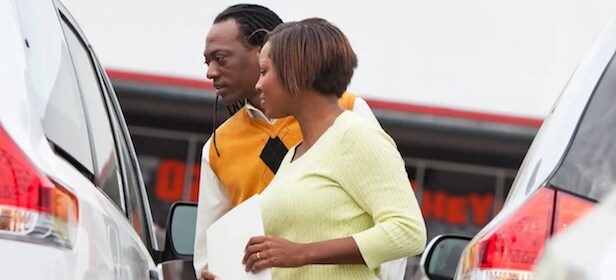 If you've been shopping for a new car or have recently visited our Newton and Ledgewood area Toyota dealership, then you've most likely seen stickers in the windows of the cars on our lot. Sometimes referred to as a Monroney sticker, this sheet of paper is filled with valuable vehicle information that can help inform auto shoppers and impact their car-buying decisions.
It's not uncommon for various dealers to orient their car window stickers differently but each sticker is required to legally contain the same information across the board. Some of the most crucial information auto shoppers will find on a window sticker includes:
Model Information

Drivers will find the most basic vehicle information on the first part of the window sticker such as the make, model, year, configuration, vehicle identification number, and interior and exterior color.

Standard & Optional Equipment

Usually found on the left side of the sticker, a thorough breakdown of each model's standard features is outlined and included in the manufacturer's suggested retail price (MSRP) for drivers to consider. This list features everything from drivetrain and engine type, to basic and advanced safety systems. Window stickers also provide information on any optional equipment that may be included with the specific trim level you're looking at and inform you if they're part of any special package or bundle.

Warranty Information

This part shows the particular warranty information for the vehicle, including powertrain and bumper-to-bumper warranties, roadside assistance packages, and any other manufacturer's offers.

Total Price

What many consider to be the most important part of any car window sticker, the total price section displays the total MSRP for the vehicle. This may not always be the final price you'll pay, but it can give drivers a good starting point for negotiation. Some dealerships, like our Newton Toyota dealer, offer special incentives so if you're shopping for a new Toyota near Ledgewood, take advantage of our new Toyota specials to get behind the right car at a price point you can afford!

Fuel Economy & Safety Ratings

The last major section on the window sticker is the vehicle's fuel economy and safety ratings. Sometimes referred to as an EPA label, this section outlines an estimate of the vehicle's fuel efficiency, annual fuel costs, as well as CO2 emissions. Also listed on the sticker is the vehicle's safety ratings based on how well a vehicle performs in various crash scenarios as tested and rated by the National Highway Traffic Safety Administration (NHTSA). All of these tests are then averaged together and an overall vehicle score based on the NHTSA's 5-Star safety rating system is displayed on the window sticker.
Find the Right Model For You at Toyota World of Newton
Purchasing a new car comes with many challenges but knowing how to read and understand a car window sticker can ensure that buys will get both the car and the equipment they are expecting. For more information on reading a window sticker or to learn more about our fleet of exceptional Toyota models, contact us at Toyota World of Newton.